You can find cheap wedding dresses in the most popular stores, but finding the perfect one is a lot more complicated than that. It's not only about the price; you must consider the style, fit, size, and quality. There are also accessories, like gloves or jewelry, that can make a big difference in the cost of your gown.
It's one of the biggest financial decisions you'll ever make – buying a wedding dress. Many brides spend hundreds of dollars on their dream wedding dress, but how do you ensure you get the best deal possible? Purchasing a wedding dress is a huge decision. Not only are you investing a large sum of money into a single item, but you're making a major purchase that will last for years.
If you don't want to spend a fortune but still want the look of the wedding dress you see in magazines and on websites, you might be wondering how to save money on your wedding dress. I'll cover some of the brides' most common questions about wedding dresses and how to get the most bang for your buck.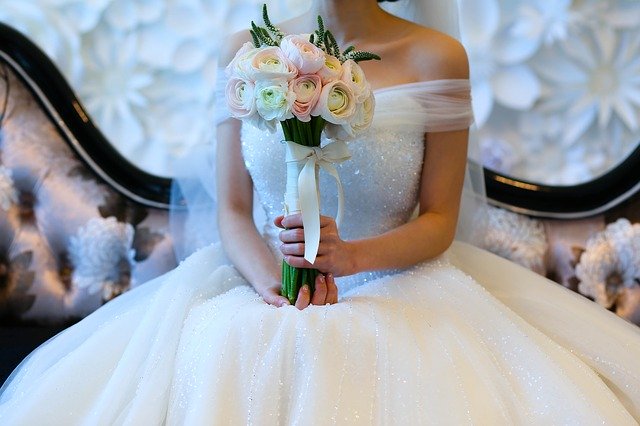 Buy a used wedding dress.
If you're spending a lot of money on your wedding dress, why not save a little cash by purchasing a second-hand one? Plenty of sites allow you to find second-hand dresses for a fraction of the cost of a new dress.
To get started, type your desired size and style on a site like Rent the Runway, and you'll get a list of dresses to choose from. Many dresses are listed in different sizes, so if you're unsure about your measurements, you can click on the model image and find out exactly what size you should be.
Once you've selected the dress, click "find similar" to see similar dresses available. Some of these dresses may not be in your exact size, but they'll give you a good idea of what you're looking for. You can also look for a dress in a specific color or ask a friend who's had the same color dress before.
Find your perfect wedding dress.
The average price of a wedding dress is around $1,200, so it's no surprise that brides spend an enormous amount of time looking for their dream dress. However, if you're on a budget and can't afford to splurge on the most expensive gowns, there are still plenty of options.
It may be easier than you think to find a cheap wedding dress. For example, you can check sites such as TheDressDepot.com. You can also look for second-hand or vintage clothing stores with a good selection of dresses at low prices.
You can also consider finding a dress on the Internet. Many websites offer free shipping, and you can easily get a sample-size dress for a small fee. You can even go shopping in your local area if you're brave. Some bridal shops sell wedding dresses in their backroom, and you might be able to find a dress you love for less than the $1,000 average price.
Make a Pinterest board for wedding dresses.
Pinterest is an awesome way of finding inspiration for the wedding dress you're looking for. You can find various wedding dresses, accessories, and even wedding dress shopping apps to help you.
When searching for a wedding dress, pin images of the gowns you like. Look for ones that have a similar style, fabric, and color, as well as ones that have a similar silhouette.
Planning for your wedding dress
Whether you're looking to buy your wedding dress, hire a sewist to make it, or make sure you know what to look out for when shopping, there are a few things you need to consider.
I was buying a wedding dress online.
It's one of the biggest financial decisions you'll ever make – buying a wedding dress. Many brides spend hundreds of dollars on their dream wedding dress, but how do you ensure you get the best deal possible?
There are several ways you can save money when buying a wedding dress online.
Firstly, you can buy a sample. Most sample dresses are less than $100, and you'll be able to see how it looks on you before you invest your hard-earned cash. If you're confident enough in the look of the dress, you can buy a model and return it if you don't like it. This is especially helpful if you're getting married in the next few months.
Frequently Asked Questions Wedding Dress
Q: What do you recommend for saving money on your wedding dress?
A: My mom says, "Have fun with it." If you want something, go to someone else's bridal store and find out what they think would look good on you.
Q: What should you avoid when buying a wedding dress?
A: Avoid going to a store where everyone else buys their dress. Go to a smaller store where they specialize in bridal, or even better, a custom designer.
Q: Do you recommend visiting bridal shops for inspiration?
A: Yes! When we went to the bridal shop, I walked in and looked at dresses. We wanted something pretty but also had some movement. I loved the lace over the top. I was so happy when I tried it on and felt so comfortable.
Top 4 Myths About Wedding Dress
1. I'm too young for a wedding dress!
2. should I wear white or black?
3. I shouldn't wear strapless dresses.
4. I should buy a wedding dress
Conclusion
You've heard this story before. Your mom and her friends married in a certain style, and you're determined to look like them. But when you shop for a dress, you feel like you're running around in circles. You don't know where to start. There are so many options out there! You might even find yourself in a wedding dress shop where everything is so overwhelming that you end up walking out without buying anything. So how do you know what to buy and how much to spend? Here are a few tips to save money and ensure you find the perfect dress.